Father Christmas Collection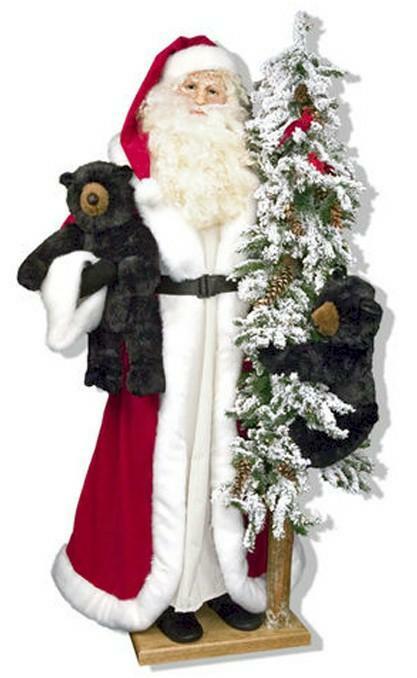 Alpine Christmas
The snowy five foot tree with 200 lights is aglow with the Christmas spirit! The climbing baby black bear is a perfect compliment to the antique red look of Alpine's costume. A second black bear cub is cuddled in his arm. Father Christmas stands 57" tall on a 12" x 18" beautifully wood stained base.
This Father Christmas is an original design, inspired by giving the spirit of the legendary Bishop of Myra St. Nicholas. Original concept sculpture was created by Jan Fegley, renowned artist and porcelain painter. This artist gave great attention to the details. He is very sturdily built with an inside frame and the beautiful sculptured face is made of a ceramic resin showing a realistic face. The beards are made of real sheep hair! A rarity to find these days. These Santas are a conversation piece to any home or Christmas decoration. They are truly an heirloom to passed down for generations!
Each Father Christmas Santa is unique with the fabric being rich, beautiful, and luxurious. Each Santa comes with pre-lighted forest Christmas tree or garland, lantern, etc.
Item #DD-10911

57" Father Christmas

60" Tree

Suggested Retail Price: $795.00

Samantha's Dolls Price: $750.00

Available Now!
Each Santa is made to order. Please allow two weeks for delivery. Shipping for this item is slightly higher than normal due to its oversized box and packaging.

View Cart | Layaway Plans | Company Policies | Contact Info