with Heart & Soul 2008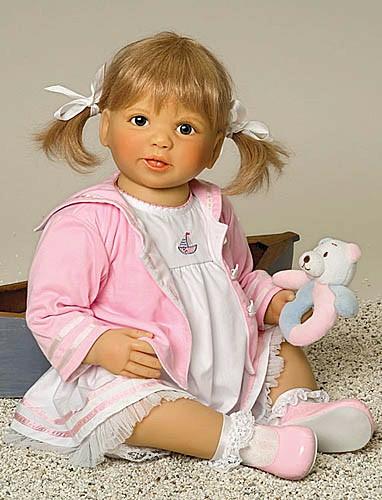 Anja
Anja is 26" tall and has sandy blonde hair styled in two pigtails and hazel brown eyes. She has silicone vinyl arms, legs, chest plate and head with a weighted cloth body.
This little sweetie is dressed in a white dress with ribbon embellishments around the hem and a pink sailboat embroidered on the bodice. She dons a pink jacket with ribbon detailing on the sleeve cuffs. To complete the look she wears white ruffled socks with pink shoes.
All details have been lovingly painted by hand.
Anja was designed exclusively for "Baby Me Collectors' Club" by the German artist, Regina Swialkowski.
Limited Edition of 200 worldwide.
Item #HS08-08

26" Silicone/Vinyl/Cloth Doll

Suggested Retail Price: $399.00

Samantha's Price: $368.00

In Stock Now!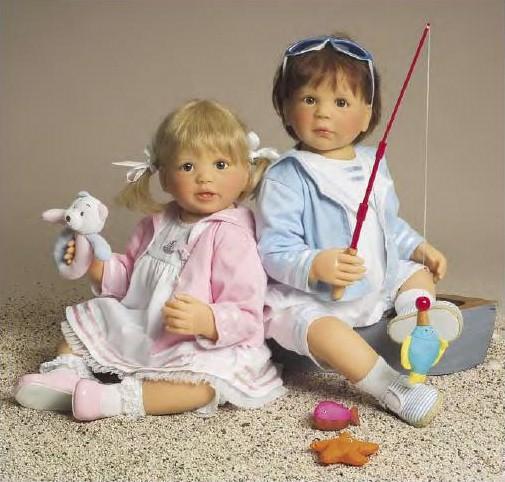 Anja shown with her brother (sold out).
REGINA SWIALKOWSKI has only recently discovered her love of dolls and her exceptional gift as a designer. An exhibition of one-of-a-kind dolls that she saw in 2001 made a deep and lasting impression on her. In 2002, she embarked on a career of doll making, earning immediate acclaim for her one-of-a-kind pieces.
View Cart | Layaway Plans | Company Policies | Contact Info