with Heart & Soul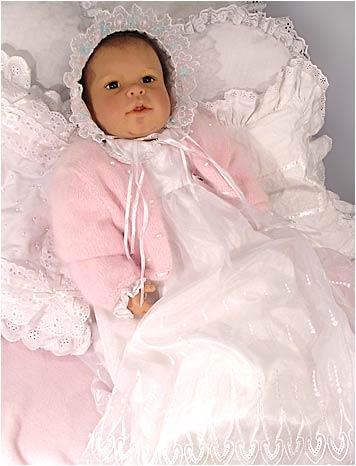 Alina (Top Right)
Alina is a 21" silicone/vinyl doll with brown hand-blown glass eyes (made in Lauscha) and brown mohair hair.
Her body is partially granulate filled and she has disc joints.
She is dressed in a beautiful, embroidered organza christening gown with a matching bonnet. To keep her warm, she wears a peachy colored mohair jacket.
All details have been lovingly painted by hand.
Alina was created by German artists Katja Schneider and Ruth Kunz exclusively for "Heart & Soul Collectors' Club".
Limited Edition of 200 worldwide.
#HS05-ALI

21" Silicone/Vinyl/Cloth Doll

Suggested Retail Price: $390.00

Samantha's Price: $350.00

In Stock Now!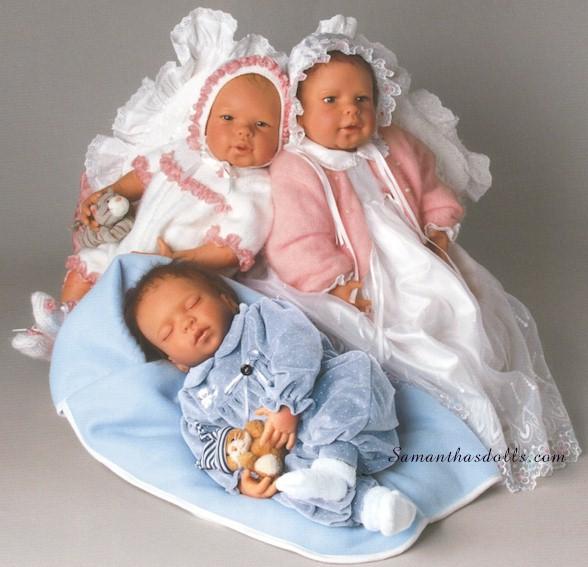 Important Notice: These pictures are intended to provide a general guide to the concept of this year's collection and we ask you to note that our ability to provide the fabrics shown in the photographs can be affected by the availability of material from our suppliers. While our policy is to make every effort to keep changes to a minimum, we reserve the right to vary, at our own discretion, colors, fabrics, trimmings and the design of the accessories without prior notice.
View Cart | Layaway Plans | Company Policies | Contact Info