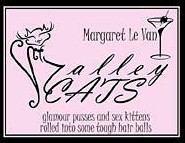 Alley Cat Figurines are the highly sought after Hot Cat Collectibles by acclaimed fashion textile designer Margaret Le Van. Le Van designed the "Alley Cats Figurines" collection showcasing feline divas, dressed "to the nines". Feline Divas and Glamour Pusses dressed in humor and high fashion! -These cats are glamour pusses and sex kittens- says Le Van, -each with a perfectly feline sense of style.
Alley Cats by Margaret Le Van. Alley Cat Collectibles Figurines are fashion forward Cats in a variety of themes that customers rave about and have fallen in love with! The Alley Cats Figurines...The original glamour pusses and sex kittens rolled into some tough hair balls by Margaret Le Van.
Please select a thumbnail to see the larger version and description.
View Cart | Layaway Plans | Company Policies | Contact Info